Story Of Elegance
God's Peace – Isn't that a wonderful thing?  And it is such a blessing if you have it.  There are so many things to love about the holidays. Christmas is such a special time as we get to commemorate the "reason for the season."  The birth of Jesus Christ.  I love the holiday stamp set that I'm showcasing today, because it makes it easy for me to send beautiful reminders of God's precious gifts.  Take a look at this stamp set entitled God's Peace.  Aren't these sentiments absolutely heartwarming?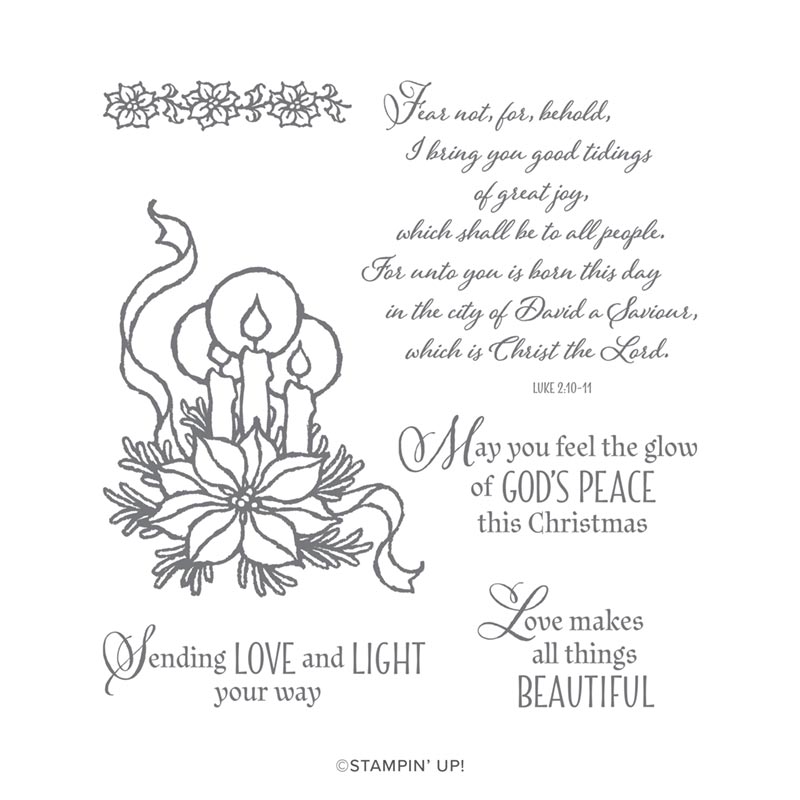 You know me, if it's easy to do I'm all for it.  This first card is easy with a capital E.   To make it, I paired a sentiment and image from the set and embossed them both using silver embossing powder.
Here's the card from another angle. It's hard to get a picture to do justice to this card.  It is simple and stunning.  The Red Rhinestone center of the poinsettia adds just a touch of color.
This next card features colors not traditionally associated with Christmas.  But I say, if you like it, go for it.  Here are the color choices for my next card.  Teracotta Tile  is one of our 5 new 2019-2021 In Colors.
The layered sentiment atop layered panel, die cut leaves and Scalloped Linen Ribbon create lots of texture and dimension.   Although you can't easily tell from the angle of the picture the sentiment panel is raised using Stampin' Dimensionals.
If you haven't had a chance to browse our holiday catalog – why not take a peek now?  It's chock full of beautiful high quality crafting products and fun holiday crafting ideas.  Click here to have a look. 2019 Holiday Catalog
Find Your Elegance
Here are the products that I used to create today's cards.
Thank you for stopping by to check out my card creations.  I'd love to hear from you.  Please feel free to leave me a comment.  I hope that you have a wonderful weekend.  The holiday cards just keep coming… I'll be back on Tuesday with more fun to share!  Until then,
Live Graciously!